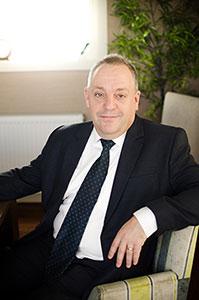 Personal Profile:
I am a consultant medical oncologist recognised nationally and internationally as an expert in cancers of the digestive system or gastrointestinal tract. Cancers of the gastrointestinal (GI) tract include tumours of the oesophagus, stomach, pancreas, bile duct, liver and bowel (colon and rectum).  However, I also have expertise in the management of other types of cancer and in palliative care.
I trained at Oxford University in the UK. Since arriving in Australia in 1993, I have had extensive experience in the management of patients with cancer, having worked at a number of hospitals in Melbourne. I have also gained clinical research experience in gastrointestinal cancer at the premier cancer centre in the UK, the Royal Marsden Hospital.  I have a strong involvement in clinical research, and am responsible for leading GI cancer research at the Olivia Newton-John Cancer Wellness and Research Centre.
Achievements:
In 2002, I was awarded a PhD by Melbourne University for laboratory-based genetic research in gastrointestinal cancer. In 2003, I received a commendation for Premiers Award for Medical Research for my PhD thesis.  I have co-authored over 140 peer reviewed publications (principally in gastrointestinal cancer and lymphoma) including publications in many prestigious journals such as New England Journal of Medicine, Nature Medicine, Lancet Oncology and Journal of Clinical Oncology.  In 2009 I was awarded the title of Associate Professor at the University of Melbourne.
In 2009, I was elected to the Scientific Advisory Committee and the Board of Directors of the Australasian GI Trials Group (AGITG), and I also chair the lower GI working party.  I am currently Deputy Chair and the Treasurer of the Group.
I have led two high altitude mountain climbs to raise awareness of GI cancers and to fundraise for research in GI cancers.  These involved the ascent of Mt Kilimanjaro (2015) and Mt Aconcagua (2018), the highest mountain in the world outside the Himalayas.  Collectively these raised almost $300,000.  I am planning a climb of Mt Himlung in May 2020.
Current appointment:
I am currently the director of the Department of Medical Oncology, Olivia Newton-John Cancer Wellness and Research Centre.  I have a major interest in both clinical and laboratory-based research. I lead the clinical research programme in gastrointestinal cancer at Austin Health and have been the Principal Investigator in >150 clinical trials.  I also undertake laboratory and translational research at the Olivia Newton John Cancer Research Institute.
I consult with private patients at 66 Darebin Street, Heidelberg, who are usually treated at Warringal Private Hospital
Your medical treatment:
In order to achieve the best results, many cancers are treated using the combination of surgery with chemotherapy and/or radiotherapy. 
In more advanced cases of cancer, chemotherapy, targeted therapies including immunotherapy and/or radiotherapy may have a significant impact on quality of life and may prolong life. I will provide advice about the most appropriate treatment options in your case, as well as discussing all aspects of your medical treatment. Also, if it is appropriate, I may also discuss clinical trials.  These may involve novel therapies which are in the process of being developed.
I believe in a multi-disciplinary approach to your care and will regularly liaise with other health professionals where appropriate, or at your request, such as a social worker or dietician.  Your case may also be discussed in a multidisciplinary team meeting (MDT).  I attend MDTs in colorectal cancer, upper GI cancer, hepato-biliary and pancreatic cancer and hepatoma.
I encourage you to ask questions no matter however minor they may seem to you.